Anglia School of Motoring provides driving lessons in West Bromwich and the surrounding areas including:
Guns Village
Hill Top
Swan Village
Balls Hill
Golds Hill
Golds Green
Churchfield
Black Lake
Great Bridge
Stone Cross
We are very familiar with West Brom, after all, our business was founded here in 1986.
Learning to drive in West Brom FAQs
How much are your driving lessons?
What cars do you provide?

We offer:

Female driving instructor with 34 years experience in a Toyota Yaris petrol car with manual transmission.
Male driving instructor with 36 years experience in a VW Up petrol car with manual transmission.
Do you offer automatic tuition?

No, we only provide manual driving lessons.
What can beginners expect?

There are many quiet residential streets in West Bromwich and surrounding areas for beginners.

There is an estate off Spon Lane, which consists of level roads and is perfect for learning to move off, stopping in a straight line and at an angle, clutch control plus turning left and right. Nearby, you can practice uphill and downhill starts in Lyng Lane where you will also learn how to deal with a one way street by the Linkway Medical Centre.

Claypit Lane by George Salter Academy is another area of West Bromwich that is suitable for beginner drivers. It is very similar to the area described above, but with a little more traffic, especially in the mornings and afternoons during the school run. The Tantany estate by Hargate Primary School is perfect for downhill and uphill stops and starts.
What can advanced learners expect?

West Bromwich High Street is great for learning about the different types of pedestrian crossings including pelican, toucan, puffin, and zebra. There are many challenges such as buses stopping and moving off. This how you will learn how to overtake them safely.

We may also drive through Junction 1 of the M5, a very large and busy roundabout with multiple traffic lights and filter lanes.
Do you offer motorway lessons?

Yes, we offer motorway driving lessons. West Bromwich is located next to where the M5 starts at J1 and there are two motorway interchanges within a reasonable driving distance.

Both interchanges provide excellent opportunities to practice merging and exiting the motorway. The first interchange is located where the M5 joins the M6 next to West Bromwich. The second is next to Birmingham where the A38 Aston Expressway leaves the M6 at Spaghetti Junction.
Where can I take my practical driving test?

Wednesbury driving test centre is the nearest to West Brom located roughly 3.5 miles away or you can use the Kingstanding test centre, which is 7 miles away.
Where can I take my theory test?

Dudley theory test centre is the nearest to West Brom located 5 miles away or you can use the Birmingham theory test centre, which is 6.5 miles away.
How do I apply for my provisional licence?
Book your driving lesson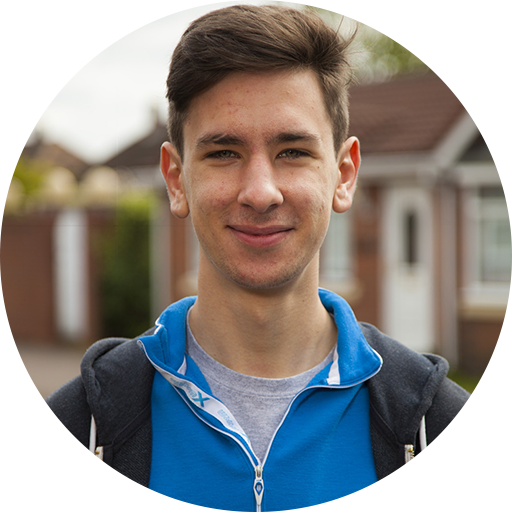 "I think Rita is a driving instructor for anyone. She is extremely friendly and pushes you in the right direction to do things which end up making you a better driver and progressing you at a faster rate than you would even expect. I feel like she has had confidence in me even from the first lesson which has given me extra confidence to be better. I've enjoyed my lessons with her and I don't feel like I would have had as much success with another instructor."
Driving instructor in West Bromwich
Our driving instructors know the traffic hotspots and road layout of West Bromwich very well including the best places to practice your driving skills. We offer the following:
DBS checked instructors who follow strict coronavirus guidelines.
We'll pick you up and drop you off at a location of your choice, many of our student learners ask to be picked up at Sandwell Academy.
We turn up on time and give you the full time you've paid for.
You'll get professional and patient tuition designed to keep you safe on the roads long after you pass your test.